AAUW's Raleigh-Wake Branch
is proud to present the speaker for our
August 20th Meeting
Georgina Dukes
speaking on
NCCARE360: Addressing Social Determinants of Health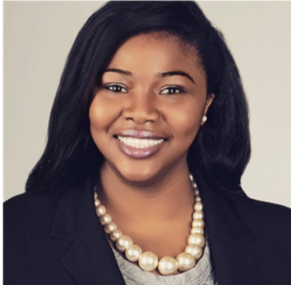 About Georgina:
Georgina Dukes is the State Project Manager for Unite Us – a tech company created to
address Social Determinants of Health. Prior to her employment with Unite Us, Georgina
served a Strategic Services Associate for Duke Heart and an Administrative Fellow at Duke
University Hospital. Her career has involved working in academic medical center strategic
operations and bridging the gap between hospitals and community health initiatives.
Georgina earned her Bachelors in Health Science from Clemson University and her
Masters in Health Administration from the Medical University of South Carolina.
When:   Tuesday, August 20
  5:15 pm – 5:30 pm     Network
  5:30 pm – 7:00 pm     Program
  7:00 pm – 7:30 pm     Business Meeting
Where:  Chavis Heights site, Communities in Schools of Wake County
Duke Energy Learning Center, 781 Bright Creek Way (near Ligon Middle School)
Notes on how to get to the Learning Center:
Heading east on MLK Blvd, turn LEFT on Haywood St.
(If westbound, turn RIGHT.)
Next turn LEFT on a very short access road called Hopemont St.
Finally, turn RIGHT on Bright Creek Way.
Your destination, 781, is on the RIGHT.