The membership of the Raleigh-Wake AAUW branch will hold its final meeting of the year at 5:15 PM on June 18. We traditionally take July and August off for evaluation of the previous year and planning of next year's programs.
The June program will feature Hyun Namkoong of the NC Justice Center.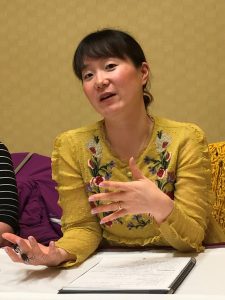 Our speaker will address the "hot-button issues" and contested history, as well as the current state of a NC budget issue: Medicaid Expansion. The Justice Center's website https://www.ncjustice.org/publications/health-insurance-improves-health-outcomes/ provides a well-organized introduction.
Medicaid expansion is a topic that we as NC citizens need to understand. Whether we advocate for or against, our activism is important. So, please save the date in anticipation of what is likely to be a very informative session.
When:   Tuesday, June 18
  5:15 pm – 5:30 pm     Network
  5:30 pm – 7:00 pm     Program
  7:00 pm – 7:30 pm     Business Meeting
Where:  Chavis Heights site, Communities in Schools of Wake County
Duke Energy Learning Center, 781 Bright Creek Way (near Ligon Middle School)
Notes on how to get to the Learning Center:
Heading east on MLK Blvd, turn LEFT on Haywood St.
(If westbound, turn RIGHT.)
Next turn LEFT on a very short access road called Hopemont St.
Finally, turn RIGHT on Bright Creek Way.
Your destination, 781, is on the RIGHT.