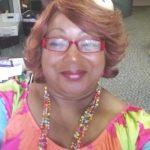 Regelyn "Reggie" Edwards is the Executive Director of The Encouraging Place, a
non-profit ministry in Raleigh, NC, created to serve women and their families and work toward racial healing. A Raleigh native, she attended local colleges and graduated from Justice Fellowship College of Theology with a Master of Arts in Ministry in 2005. Reggie has over 25 years of experience working in urban communities. She has impacted over 5,000 women through women's empowerment programs and is a Certified Life Coach. She has also led hundreds of men and women in a deeper understanding of race and reconciliation. She serves as a consultant with churches and organizations, helping both to bridge the racial divide. In addition to several groups she coordinates, Reggie also holds annual conferences and forums on dismantling racism. She believes one cannot adequately deal with issues around racism without historical, cultural, structural, and institutional analysis. Reggie is a strong proponent of the Racial Equity Institute and participates regularly.
Come and Join us on Tuesday March 17 for an event of empowerment and knowledge!