We meet on Tuesday June 16Th at 5:15pm so MARK YOUR ZOOM CALENDARS!!!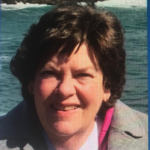 Let's Welcome   Marian Lewin
League of Women Voters
Marian Lewin has served in several leadership positions for the League of Women Voters-Wake since becoming a member in 1997 including as president from 2014 to 2019. In addition to chairing the Voters Services Committee, Marian is Vice-President of the Board of Directors for the League of Women Voters of North Carolina. She has worked extensively in the public policy arena. In Washington DC, she worked for the General Accountability Office (GAO) in the National Security and International Affairs Division responding to congressional requests for legislative and budgetary analysis of Department of Defense and State Department programs. Marian then worked at the Food and Nutrition Service of the U.S. Department of Agriculture providing analysis of legislative proposals. In Raleigh, she served as an Assistant to the Commissioner in the NC Department of Labor. While in Warsaw, Poland, she managed a cooperative agreement between the AFL-CIO and the Polish Worker's Union, Solidarity. Since 1996 Marian has served as a precinct worker for the Wake County Board of Elections, most recently serving as an election-day Coordinator. She has a BA from the University of California-Davis and an MS and PhD from the University of Wisconsin-Madison.
Please join us!  Our guest has timely information that's more important now in our history of democracy and freedom than ever before!!
Topic: AAUW Wake Zoom Meeting
Time: Jun 16, 2020 05:15 PM Eastern Time (US and Canada)
Join Zoom Meeting
https://us02web.zoom.us/j/83827582602
Meeting ID: 838 2758 2602