Summer is here! Our Branch takes a break in July & August…
…but before we disperse, it's time for…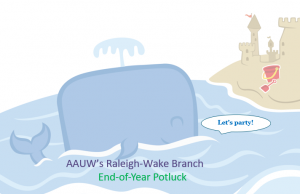 AAUW's Raleigh-Wake Branch   End-of-Year   Potluck
2016-17 was a memorable year for the Branch. Mind-expanding programs, involvement in projects and a growing membership have given us lots to feel good about. Ideas for next year have started to emerge, but we need YOUR input to bring program plans to life. Together we make things happen. Here's to the company of educated women!
Let's party!
Where: Junior League Center
711 Hillsborough @St Mary's St
When: Tuesday, June 20th
Time: 5:15 – 7pm
Bring your favorite party dish …& a friend!
Drinks, plates and utensils – and
lots of levity will be provided.
RSVP:   terry . c . wall  [ at ]   gmail . com